Deceiving Blues CD

Our first CD, recorded in the old-fashioned "sit in front of microphones and play the songs" manner. An homage to the great country blues men and women that have inspired us. These are our Blues, we sing 'em as we please. We have been playing this Blues music with each other for close to fifteen years. Individually, we have been doing it much longer--decades. Like many players, we've attempted to hear and absorb as much as we could from the masters who preceded us. When you work in a style in which so many definitive statements have been made, though, the question arises, "What do you have to add to what's already been said?". The music on this CD is our answer to that question.You can find it at CD Baby and other fine retailers.

We Heard the Voice of a Porkchop CD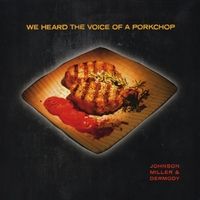 Our latest offering with more blues, more humor, lots of mandolin, harmonica, guitar, and even a dash of six string fretless banjo to tickle your ear. This time we've added a couple of original songs to the mix, expanded the sound to include some touches of old-time music, and wrapped it all up with one of the finest portraits of a pork chop you'll find anywhere. Head for CD Baby to pick up a physical copy or download and start listening to the voice of the porkchop. You'll be glad you did!
Previous events
Kenyon Hall, 7904 35th Avenue SW, Seattle, WA
Acoustic blues ala JMD!!! A rare West Seattle sighting!!
Marc Hoffman House Concert
John, Grant, and Orville bring the country blues magic to an intimate house concert in Duvall WA. Come join them!!!
Kenyon Hall, 7904 35th Avenue SW, Seattle, WA
JMD play their sweet country blues and welcome blues buddy Rich Del Grosso from Houston TX, known far and wide for his mandolin mastery!!!